ELECTRIC VEHICLES CLASSIFICATION.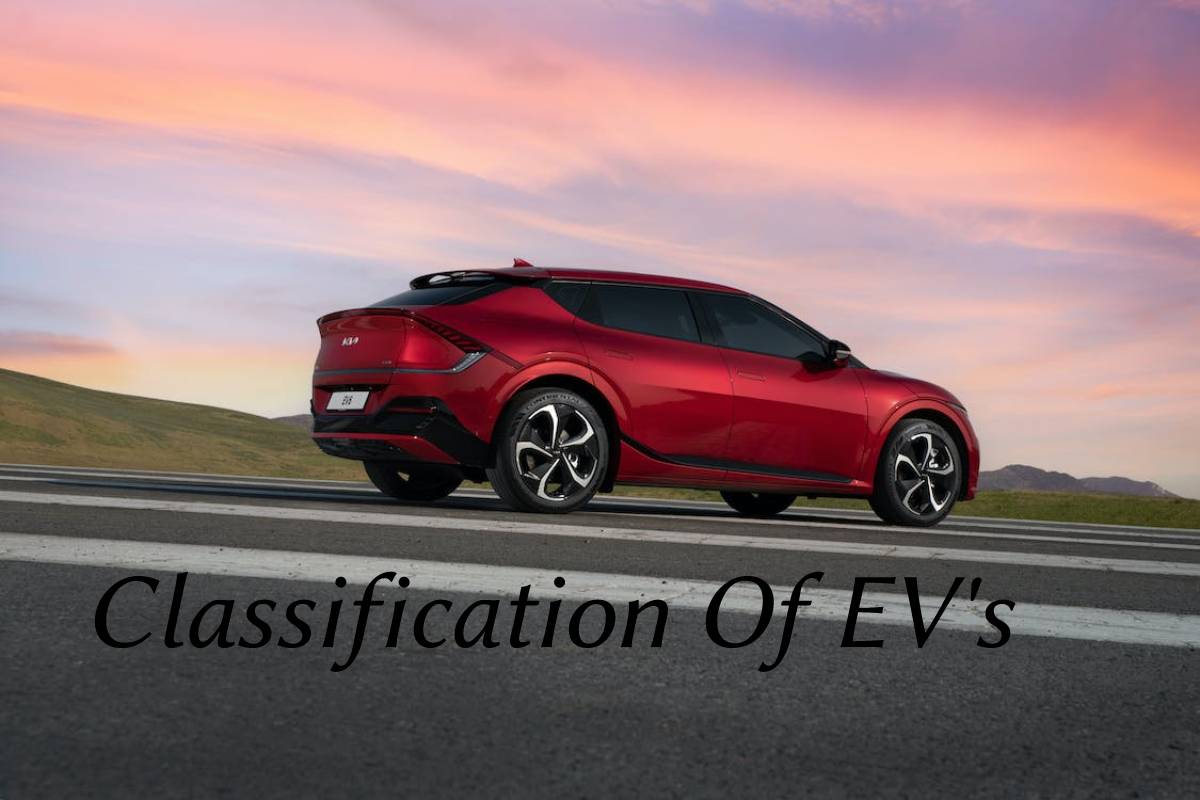 Electric vehicles are four distinct in four types
Battery Electric Vehicle (BEV):
Entirely electrically powered.
These are more fuel-efficient than hybrid and plug-in hybrid vehicles.
Electric-Hybrid Vehicle:
HEV: Hybrid Electric Vehicle The vehicle is powered by both an internal combustion (often gasoline) engine and a battery-powered electric motor.
When the battery is depleted, the gasoline engine is used to both drive and charge the vehicle.
These automobiles are less efficient than fully electric or plug-in hybrid automobiles.
Plug-in Hybrid Electric Vehicle (PHEV): Utilizes both an internal combustion engine and an externally charged battery (they have a plug).
This implies the battery can be charged with electricity instead of the engine.
PHEVs are more energy-efficient than HEVs, but less so than BEVs.
Fuel Cell Electric Vehicle (FCEV): Chemical energy is converted into electricity. For instance, a fuel cell FCEV.
Electric vehicles describes the system architecture are distinct in four following  types:
Battery Electric Automobiles (BEVs)
BEVs are often referred to as All-Electric Vehicles (AEV).
BEV-powered EV's operate solely on a battery-powered electric drivetrain.
The energy utilized to power the vehicle is stored in a huge battery pack that can be recharged by plugging the car into the power grid.
The charged battery pack then gives power to the EV's electric motors.
Principal Elements of BEV:
Drive train, Electric motor, Inverter, Battery, Control Module
HEV: Hybrid Electric Vehicle
HEVs are also called as parallel or series hybrids.
HEVs have both an internal combustion engine and an electric motor.
The engine is powered by fuel, while the motor is powered by batteries.
The transmission is concurrently spun by the engine and the electric motor.
Principal Elements of HEV:
Motor, Electrical motor, a battery pack with a controller and an inverter Fuel tank, Control modul
PHEV: Plug-in Hybrid Electric Vehicles
PHEVs are also referred to as series hybrids.
They have both a motor and an engine.
You may pick between conventional fuel (such as gasoline) and alternative fuel (such as bio-diesel).
It is also capable of operating on a rechargeable battery pack.
The battery can be externally charged.
Principal Components of a PHEV
Engine, Inverter, Battery, Fuel tank, Control module, and Battery Charger.
Fuel Cell Electric Vehicles (FCEV):
FCEVs are sometimes referred to as Zero-Emission Vehicles.
They use "fuel cell technology" to create the electricity necessary for the vehicle's operation.
The fuel's chemical energy is instantly transformed to electricity.
Main FCEV Components:
Electric motor, Fuel-cell stack, Hydrogen storage tank, battery with controller
FCEV Working Principles:
The FCEV creates the electricity necessary to power the car onboard.
Also Read – https://evarticle.com/2022/10/04/electric-vehicles-classification/