Ford's First Factory Fully Electric Dragster – Battery, Trains, and More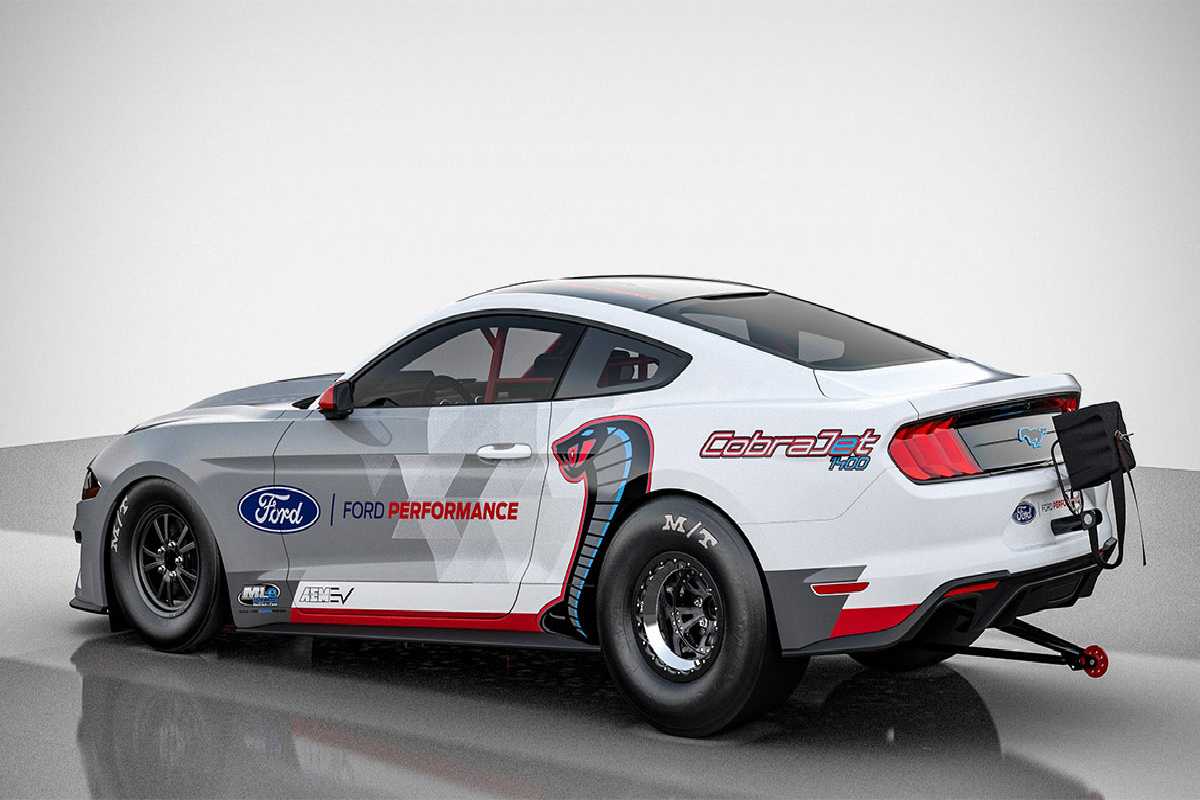 Ford's First Factory Fully Electric Dragster
Ford's First Factory Fully Electric Dragster: Ford Motor Company, also known as Ford, released Mustang Cobra Jet 140, the first factory-built fully electric dragster.
It is a global American vehicle manufacturer with headquarters in Dearborn, Michigan. Henry Ford formed it, and on June 16, 1903, it became a legal entity.
Under the Ford brand, the corporation sells cars and commercial vehicles, and the Lincoln premium brand sells luxury vehicles. Ford also holds a 32% share in China and an 8% stake in the British automaker Aston Martin. It also owns the Brazilian SUV producer Troller.
Additionally, it has joint operations in Turkey, Russia, China, Taiwa, and Thailand.
The Ford family controls the corporation listed on the New York Stock Exchange; they hold a minority stake but the majority of the voting rights.
Ford Performance introduces a unique Mustang Cobra Jet factory drag racer with all-electric propulsion for the first time.
The quarter-mile is expected to be completed in the low-8 second range at a speed of more than 170 mph without hurting your ears or using a drop of fuel.
Battery
The battery-powered Mustang Cobra Jet 1400 prototype was designed to showcase the potential of an electric powertrain in one of the most demanding racing settings. It is expected to produce over 1,400 horsepower and over 1,100 ft.-lbs. Of immediate torque.
What are Electric power trains?
According to Dave Pericak, global director of Ford Icons, innovating through motorsport has long been a Ford priority.
The all-electric Cobra Jet 1400 is one example of a vehicle that pushes new technology to its maximum limit. "Electric powertrains allow us an entirely new kind of performance.
In this exciting year, when the all-electric Mustang Mach-E joins the Mustang family, we're eager to show off what's possible.
First appearance of the new Electric Ford Mustang Mach -E SUV:
The Mustang Cobra Jet 1400 prototype presents another opportunity to advance Mustang heritage and performance while at the same time incorporating some of the most cutting-edge technology coming to Ford's future powertrains, following the introduction of the all-electric
Ford Mustang Mach-E SUV — the first-ever, all-electric Mustang:
Additionally, the Mustang Cobra Jet 1400 pays homage to the original Cobra Jet, which ruled drag strips in the late 1960s and continues to be a significant factor in sportsman drag racing today.
"All of us at Ford Performance found this project to be challenging, but one that we enjoyed taking on, according to Mark Rushbrook, Global Director, Ford Performance Motorsports.
We viewed the Cobra Jet 1400 project as a chance to begin developing electric powertrains in a race car package because we already had a lot of expertise with it. As a result, we already had performance benchmarks we wanted to equal and surpass at this time.
The crew at Ford Performance Motorsports had a great time working on this project, which we hope will be the first of many."
Technical Information
We can make a few reasonable estimates regarding the electric Cobra Jet's motors, batteries, etc., even though Ford has not yet provided any technical details about them:
2x AM Racing Dual Stack 250 Motors are the motors. Probably two of these motors are stacked on top of one another. Making a total of four HVH Remy 250 cores.
4x RMS PM250 DZ inverters: 450Arms continuous, 600Arms maximum, 300-800v
Transmission: A two-speed Powerglide can be heard in the video.
Rear-end: Probably a shortened Ford 9-inch diff, standard drag racing gear.
Also Read: Electric Vehicles And Its Benefits