Societal benefits of EV's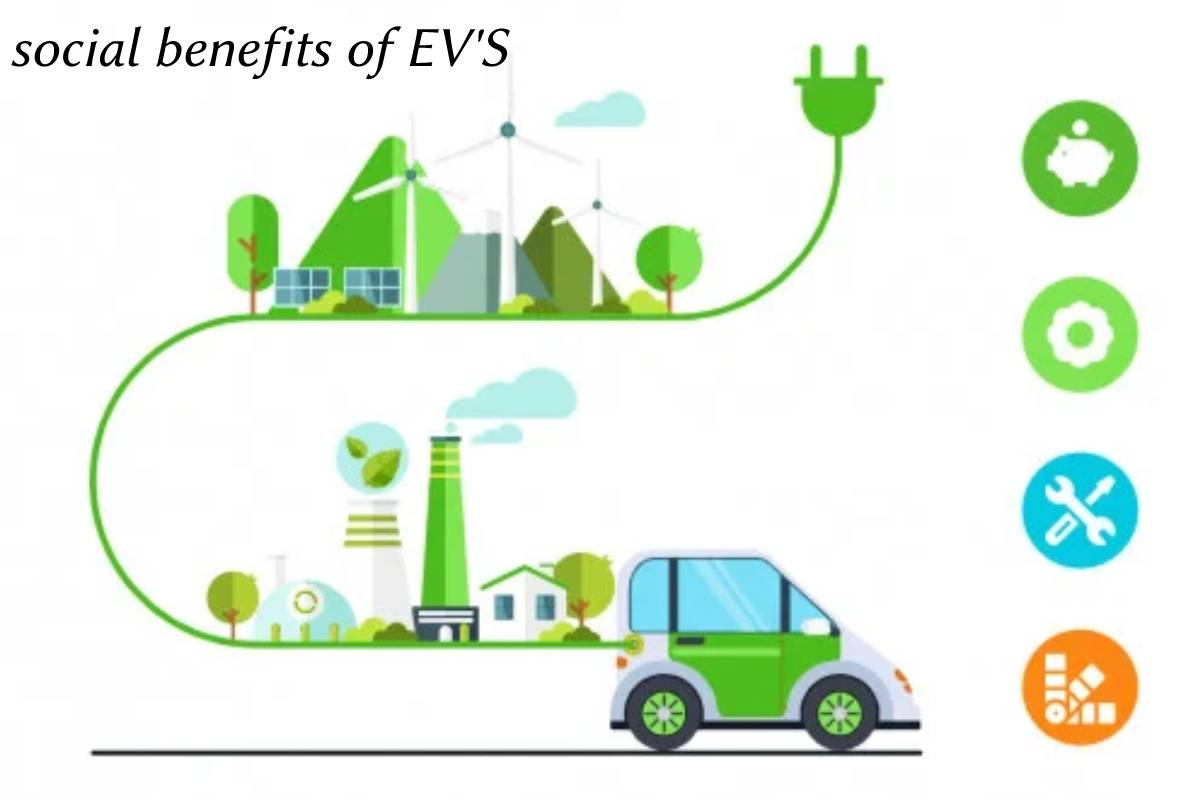 Societal demands are ranging towards electric vehicles .
Societal preferences are pushing manufacturers to update their standards.
The use of electric vehicles has gradually expanded during the previous decade.
This is due to improved technology, government incentives, increasing production capacity, expanding electric vehicle infrastructure, and eager consumers.
what about the societal impact of electric vehicles? What are their societal benefits?
Electric vehicles are much more than meets the eye.
They are ecologically beneficial, electric automobiles are popular for a variety of reasons.
Electric vehicles have zero emissions, which is wonderful for lowering a person's carbon impact.
Carbon emissions are significantly increased by travel, particularly commutes to and from work.
Large energy storage devices include car batteries.
Solar and grid electricity both benefit customers.
Off-peak use and recycling energy back into the grid, homes, buildings, and cars.
In other words, an electric vehicle takes part in energy distribution and storage. This idea is often referred to as "vehicle-to-grid" or "V2G."
Societal advancements.
The increased use of electric vehicles will also benefit centralized infrastructure.
Electric vehicles and charging stations have had to deal with several problems from the inception.
Without automobiles, there would be no motivation to create a significant infrastructure for charging, and vice versa, there would be no reason to purchase electric vehicles.
The effect of tax breaks for car purchases and car owners making money through V2G has been to overcome the difficulties in constructing such infrastructure.
Compared to traditional gasoline or diesel vehicles, electric automobiles are frequently considered as being more ecologically friendly.
This is due to the fact that they have zero emissions at the time of usage, which reduces air pollution and fights climate change.
Electric vehicles consume energy, which inevitably has a carbon footprint.
Moreover, since oil isn't needed to power electric automobiles, less foreign oil is required.
This improves energy price stability and decreases reliance on nations that produce oil.
If not from fossil fuels, where would the energy for automobiles come from?
The main ones include solar, wind, hydro, and nuclear power. Each nation has a unique profile of its energy sources.
Electric automobiles can help to improve the air quality in metropolitan areas since they produce fewer local carbon emissions.
Particularly those with respiratory conditions like asthma will gain a great deal from this.
However, because of the system used to generate power, their emissions are indirect.
These emissions vary depending on whether the grid relies on fossil fuels, particularly coal or oil, or whether it is more inclined to use renewable energy.
To conclude, because an electric car travels further per unit of energy than a traditional gasoline vehicle, electric automobiles are less expensive to operate than gasoline vehicles.
Also Read – https://evarticle.com/2022/10/05/torque-in-electric-vehicles/