Napa Valley – Best Things To Do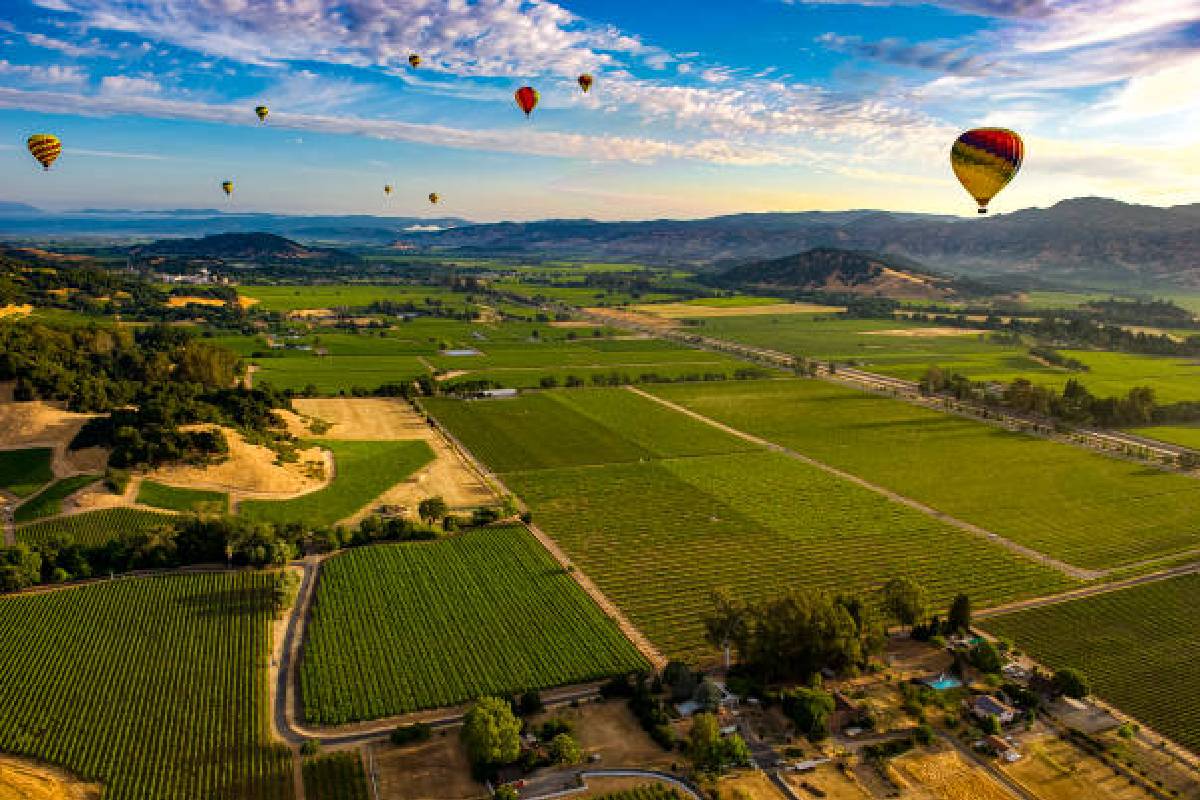 One of the best places to travel in the US is Napa Valley, one of the most visited regions in California. The area is 70 miles west of Sacramento and 50 miles north of San Francisco.
Napa Valley is California's top wine region, so you have officially entered wine country when you arrive. But Napa Valley isn't just known for its wine; it also produces wonderful syrup, red wine vinegar, and olive oil, among other culinary delights. Napa Valley also provides scenic beauty and outdoor adventures. This guide includes the most important things to do in Napa Valley.
Top Things To Do In Napa Valley
Whether you spend your days kayaking down the Napa River, which runs through Napa from Mt. St. Helena to San Pablo Bay, or wine tasting at Napa Valley wineries, you can stay entertained with various activities. The top activities in Napa Valley are listed here. Let's go ahead and begin as soon as possible.
1. Fly in a hot air balloon
Given Napa Valley's stunning, why wouldn't you want to view it from above? One of the most memorable ways to see the valley is by taking a hot air balloon flight. You can see the rolling hills and rows of grapes below you. To get the whole experience, time your flight to coincide with sunrise or sunset. Napa Valley will appear in the most lovely light, and you'll be able to see other hot air balloons rising from the valley floor.
2. Napa Art Walk
One of the best free activities in Napa Valley is the Napa Art Walk. The walk's artwork is rotated every two years and is scattered around Downtown Napa. You'll be roaming about and spotting stunning sculptures, so get your camera ready. The Napa Art Walk features regional and local artists' sculptures, allowing you to see some up-and-coming talent.
A professional art jury chooses ten sculptures each time the work is rotated and the theme changes. A free map is available at the Napa Valley Welcome Center. The map provides information about each artist and sculpture and the ultra-secret routes between each display.
3. A Kayak Tour On The Napa River
Explore the Napa River by kayak. As you kayak down the most famous section of the river, your educated guide will tell you about the background of the valley. You'll learn everything there is to know about the valley and also its most thrilling tales, from the earliest settlers to the first vineyards and even an Elvis Presley visit.
Most excursions are under two hours, and you'll need a reasonable fitness level to finish the kayak. But kayaking is one of the best things to do in Napa Valley if you want to mix a physical challenge with a historical tour and also gorgeous river vistas.
4. Olive Oil Tasting
Oils are typically divided into three categories: delicate, medium as well as intense. When tasting olive oil, it's customary to sip it rather than consume it with something else, like bread. Olive oil tasting is undoubtedly one of the most entertaining and distinctive activities in Napa Valley.
Producers of olive oil can be found all around the valley. Long Meadow Ranch is a well-liked location for tasting olive oil and offers meager prices that provide excellent value. You can make a reservation in advance.
5. Old Faithful Geyser Of California
The multicolored geyser pool and spectacular geyser itself make for amazing photos. Old Faithful also erupts frequently, several times an hour. The geyser has been used to predict earthquakes since it is so "reliable" throughout times of inactivity.
One of the most exciting things to do in Napa Valley is to visit California's Old Faithful Geyser. It can be readily added to an itinerary because it is nearby Calistoga.
Mount Saint Helena hike
You may get active while discovering Napa Valley in a variety of ways, not just on bike trips. There are mountains to climb as well. Mount Saint Helena is an excellent top to climb if you enjoy a challenge. You only need to be determined and physically fit; no equipment or technical knowledge is required.
Also Read: https://travelrelm.com/2022/11/10/winter-in-denmark/